Being depressed by applying for Receptionist Jobs in Dubai but getting no response from employers despite having good numbers of experience. And you desperately want a job change. Then you must reduce your stress levels first 
 . Because here we will be exploring incredible opportunities in the field of Front Desk jobs and will keep the list in front of you. So let's get started.
| | |
| --- | --- |
|  Job Position | Front Desk Receptionist/Telephone Operator |
|  Job Location | Dubai, Abu Dhabi & Sharjah |
|  Nationality | Selective (update) |
|  Education | High School degree/diploma or equivalent |
|  Experience | Mandatory |
|  Core Skills | Telephonic Etiquette |
|  Language Skills | English (written & verbal) |
|  Salary | Specified below (update) |
|  Benefits | As per UAE labor law |
|  Last Updated on | 20th June 2022 |
Receptionist Jobs in Dubai & UAE For Hotels & Hospitals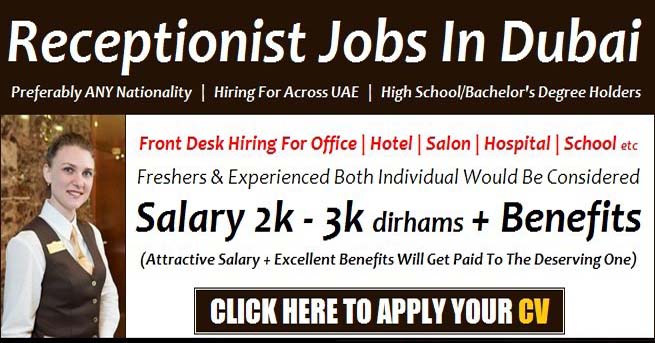 Front Desk Receptionist Job Description
Undoubtedly, a Receptionist works for Companies, Salons, Hotels, Hospitals, Schools, and other Top Organizations as well. As a Front Desk Office Receptionist, you must be polite, friendly, and have a smiley face because you will be the first one to make eye contact with the company's client. You are responsible for greeting clients, asking them for the query, requesting them to have a seat, making sure that they are comfortable, and routing calls to the specific employee operating PABX (Private Automatic Branch Exchange).
Furthermore, checking emails, receiving couriers and parcels on a regular basis, and distributing them to the relevant persons. Find an available conference room for a scheduled meeting when required and so on.
Eligibility Criteria:
Having the ability to attend phone calls, email, file documents, and fax.
Have a good command over MS Office such as Word, Excel, and PowerPoint.
Excellent communication skills in English both written and verbal.
You must be good customer service in helping customers efficiently.
How To Apply For Receptionist Jobs in Dubai?
To make the above things possible, you must have outstanding interaction skills in English and a great number of experiences would also be considered. However, Arabic would be an added advantage. In order to apply for the following jobs, you are requested to take a few moments to read the eligibility criteria. Best of luck! 
List Of Vacant Positions (Newly Updated)
Receptionist (Male/Female)
Hotel Name: Royal M Hotels & Resorts
Job Location: Abu Dhabi
Education: Equivalent degree/diploma holders
Experience: Must be experienced
Candidate's Availability: Inside UAE
Email CV: [email protected]
Date Posted: 21th June 2022
Receptionist cum Telecaller
Company Name: Pitbull Safety Shoes
Job Location: Dubai
Education: Equivalent degree/diploma holders
Experience: Must be experienced
Candidate's Availability: Inside UAE
Email CV: [email protected]
Date Posted: 21th June 2022
Hotel Receptionist
Hotel Name: The Eclipse Boutique Suites
Job Location: Abu Dhabi
Education: High School/diploma or equivalent
Experience: With minimum 2 years of experience in the same role
Candidate's Availability: Inside Abu Dhabi
Send Us: CV with a recent photograph
Email CV: [email protected]
Date Posted: 21th June 2022
Front Desk Receptionists (2 nos.)
Hotel Name: The Act Hotel Sharjah
Job Location: Sharjah
Nationality: Open
Education: Equivalent degree/diploma holders
Experience: UAE hotel experience in a 4 to 5-star hotel
Candidate's Availability: Inside UAE
Subject: Please mention your desired position in the subject line
Email CV: [email protected]
Date Posted: 21th June 2022
SPA Receptionist (Filipino)
Hotel Name: Ramee Group of Hotels
Job Location: Dubai
Education: Equivalent degree/diploma holders
Experience: Relevant industry experience in Dubai
Candidate's Availability: Inside UAE
Availability: Immediately
Email CV #1: [email protected]
Email CV #2: [email protected]
Date Posted: 21th June 2022
Front Office Receptionists (Arabic Speaker)
Healthcare Group: LIFE Pharmacy – LIFE Health Care Group
Job Location: United Arab Emirates
Education: Equivalent degree/diploma holders
Experience: Relevant experience in the healthcare industry
Candidate's Availability: Inside UAE
Email CV: [email protected]
Date Posted: 21th June 2022
Receptionist
Hotel Name: 72 Hotel Sharjah
Job Location: Sharjah
Education: High School/diploma or equivalent
Experience: Hospitality experience
Candidate's Availability: Inside UAE
Email CV: [email protected]
Date Posted: 21th June 2022
Guest Service Agent (Front Desk Receptionist)
Hotel Name: DusitD2 Kenz Hotel
Job Location: Dubai
Education: Equivalent degree/diploma holders
Experience: With hospitality & opera experience
Candidate's Availability: Inside UAE
Availability: Immediately
Email CV: [email protected]
Date Posted: 21th June 2022